8 min læsning
Microsoft Power Platform Conference 2023 highlights!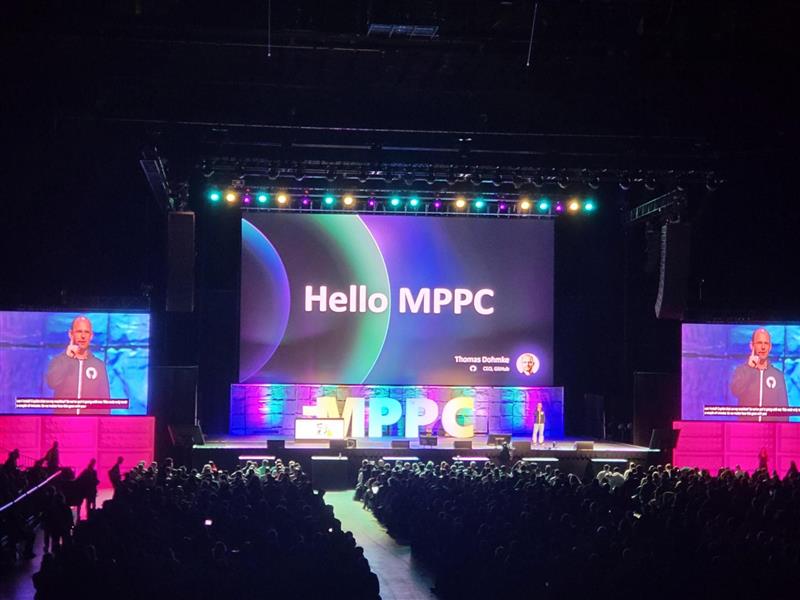 Chris Hansen
Principal Power Platform Architect & Power Platform Lead


Microsoft Power Platform Conference 2023 featured an abundance of news and releases within just three days. In this blog post, we will dive into the highlights and key takeaways from this exciting event.
Key take-aways from MPPC23:
Copilots are being developed for PowerApps, Power Virtual Agents, Power Automate, Power BI (Fabric), and Power Pages.
We've now reached 10 million monthly active users of Power Automate and 33 million monthly active users of the Power Platform in general.
There's a new layout, a new Expression Editor, and even a copilot for Power Automate.
Co-authoring inside Canvas Apps is planned to be released in Q1 2024.
126,000 organizations are already using copilot in various preview formats.
Co-authoring in Canvas Apps can be expected in Q1 2024.
Copilot for M365 (Outlook, Excel, PowerPoint, Word) will already be in General Availability on November 1, 2023.
Fabric in General Availability can be expected "Sooner than we would expect".
Low-Code 4.0
At the Microsoft Power Platform Conference in 2022 there was a lot of focus on the fourth generation or iteration of low-code.
Originally, when working with computers, there were no supporting tools, whatsoever. Eventually we got IDEs that can support with syntax, highlighting errors and formatting. At some point we also got Excel, and with that came Visual Basic for Applications (VBA), which allowed the average user, to do a lot more with a computer, than they had been able to at that point.
Nowadays, we're in 4.0, which means we're building applications, automations, ETL and even AI, without knowing necessarily knowing how to code, which is quite impressive. A natural part of that, is also that developers need to develop less and less, since there are more people to co-lift that burden, which leads us to where we are at the moment.
Power Platform in numbers
There are a lot of numbers about Power Platform that would be very interesting to get from Microsoft, but they don't share too many of them, unfortunately. At least not too frequently. However, what we do know is that 97% of the Fortune 500 companies have adopted and are using the Power Platform to some extent, that means of the 500 biggest companies in the U.S. there are just 15 that don't utilize Power Platform – think about that the next time you question the enterprise readiness and scalability of the platform.
At MPPC23 they also announced that Microsoft Power Automate now has more than 10 million active monthly users, and for the Power Platform as a whole, the number is more than 33 million. That is 5 and a half times the population of Denmark (5.944.145 according to DST).
Copilots in the Low-Code Revolution
In the context of this low-code revolution, one of the standout developments is the introduction of copilots. These are AI-powered companions that assist in various domains, extending their reach to Power Apps, Power Automate, Power BI (Fabric), and Power Pages.
Copilots are designed to simplify the development process, making it accessible to a broader range of users, regardless of their coding expertise. Their introduction is transforming the way we build applications, automations, and even delve into AI without the need for extensive coding knowledge.
Are copilots just all buzz and hype?
Partially yes, and partially no. There's no doubt that copilots will have a wild effect on our daily lives inside the Microsoft suite, both in M365 and Power Platform, but the copilots will most likely not be able to replace developers, be it internal or external, from day one.
I believe copilots will, at first, be enablers allowing citizen developers to get a quicker start, or get even further than before, but depending on the complexity of the application or automation, eventually an experienced developer will still be called in.
To give some sort of context, there are already 126.000 organizations across the world utilizing copilot, one of those is Inspari.
The Era of Enablement
For many years we have been focused on generating spreadsheets, reports, applications, and automations. Translating the needs of the many to the skills of the few, to a varying degree.
Nowadays building all these things are easier than they have ever been before, and we'll probably be able to repeat that sentence for every future year – that's a general tendency in IT, I believe.
A term that was preached at MPPC, was the Era of Enablement. The concept of Digital Transformation is dead, the users will be able to do that from here. Now we need to focus on enabling the users to do so, through properly governed tenants, with environment strategies, data loss prevention (DLP) and proper Application Lifecycle Management (ALM), just to mention a few.
Every single offering, not only from Microsoft, but in general, will in the future most likely be supported by generative AI in one way another. Microsoft offerings have either undergone a drastic change or will undergo one in the coming time in the sense of adding Copilots quite literally everywhere.
You can find copilots in the low code offerings, in the shape of Power Apps, Power Automate, Power BI and Power Pages, and even extend Power Virtual Agents with copilots.
You can get some more information here:

Microsoft 365 Copilot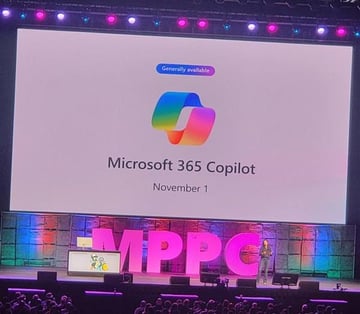 Additionally, copilots are being made available in the entirety of Microsoft 365, i.e., Outlook, Word, PowerPoint. Check the M365 copilot announcement (needs access to MS admin portal).
I've seen a few demos of pretty much all of them, and what they're able to do is quite significant. Somebody announced the death of Photoshop after seeing the Microsoft 365 copilot helping with image editing – though it may be an exaggeration, there's some truth behind the direction at least.
The specialized professionals will see less work in the future, maybe that's a good thing, as the general notion have been that many specialized professionals have been overworked for a long time, so getting to a regular work life balance probably is not so bad. It also allows a bigger portion of companies to adopt a 4-day work week, or maybe soon we will see a 3-day work week?
Develop Less, Govern More
In the evolving landscape of technology and software development, a significant shift is occurring. The focus is transitioning from intensive coding and development to effective governance and management. This shift is a direct result of innovations such as AI-powered copilots and the simplification of low-code development.
As organizations embrace the low-code and no-code revolution, the demand for traditional software development is diminishing. With tools like copilots and platforms like Microsoft Power Apps, Power Automate, and Power BI, individuals with limited coding experience can create sophisticated applications and automations.
Consequently, the role of IT professionals is transforming. Rather than primarily focusing on development, they are now shifting their attention towards governance, security, and the overall management of these applications and automations. Properly governed tenants, robust environment strategies, data loss prevention (DLP), and effective Application Lifecycle Management (ALM) are becoming paramount.
This transition not only streamlines the development process but also ensures security, compliance, and the effective use of resources. As we venture further into this new era of technology enablement, the key to success lies in developing less and governing more, ultimately creating a more efficient and secure digital environment.
The final take-aways!
While the copilot news generally stole the show for a lot of individuals, an announcement that truly made the keynote participants roar was the rework of the Power Automate editor layout. A new expression editor has arrived along with a generally new layout, and of course, a copilot. There's now the option to move across your whole flow, to an extent that was not really existing before.
A thing that made me excited, personally, is that we should expect co-authoring inside Canvas Apps to be released in Q1 of 2024, which is quite soon. It has been available for a while with the GIT integration, but it does not really work that great in my opinion, so hopefully the real deal will be a much better experience, here's to hoping at least.
Finally, and while this is not a product announcement its kind of still is, Fabric should be in general availability soon, and also "sooner than most would expect", additionally the release plans for the product have been released, so one can keep up to date with those.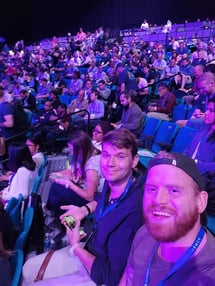 Overall, the MPPC 2023 was a blast and if you're offered the chance to go, but you're hesitating for some reason, then do go!
It doubled in size (3.000 vs. 6.500) from 2022 to 2023 according to various sources, and who knows what is in number for 2024.
Rumours say it will appear in Florida again, and participants of upwards of 10.000.
Learn more about Microsoft Power Platform

Any questions?
Please reach out to info@inspari.dk or +45 70 24 56 55 if you have any questions. We are looking forward to hearing from you.