Accountant


for Inspari
We are missing an extra set of hands in our Finance department. Therefore, we are looking for a skilled Accountant.
Today, the Finance Team exists of four employees who are responsible for the traditional economic areas such as financial management, accounts, salary, and bookkeeping. The goal for the team is to be a proactive sparring partner to our business and teamwork is a keyword in providing the best possible service.
A job with
real substance
Your most central tasks will be related to the administration of salary and you will be responsible for e.g.,
The salary of our +140 Danish employees. Both full-time employees and hourly paid employees
Accounting and balancing the salary
Managing refunds
Reporting to various authorities
Controlling the kilometer registrations
Managing requests from co-workers
Ad hoc tasks that relate to salary
After the implementation is completed, the salary administration is expected to make up 50% of your work hours. Therefore, you can also expect to participate in other tasks within the additional bookkeeping where you e.g., will take part in the billing of our customers in connection with the month-end closing together with your colleagues in the team.
The position is part-time and around 25-30 hours per week. You will be based in our office in Lystrup near Aarhus and the start-up will be as soon as possible. Don't hesitate to apply - we are hosting interviews continuously.
Do you see yourself

in these lines?
We expect that you:
Would like to work with salaries
Have an accounting education
Have relevant experience from a similar position – we work in Lessor
Are responsible and quality-conscious
Are good at staying within deadlines in a sometimes busy environment
Always have the desire to acquire new knowledge
Love working in a young and proactive environment with a fast decision-making process
If you are comfortable with financial systems, time registering systems, Excel, and IT in general, it is an advantage.
You have a structured approach to your work and like being busy and making a difference. Besides that, you are service-minded and flexible. Detail-oriented, independent, and responsible are furthermore three of the keywords describing you.

I chose to work in Inspari due to the possibility of acquiring competencies within many different tasks and solutions which is part of creating the dynamic weekdays I thrive in, and because I have the opportunity to gain insights into various business backgrounds. Besides that, one of Inspari's strengths is the strong we-feeling with room for differences and the many cool experiences you can be part of.
Kamilla Søgaard, Assistant Team Lead & Project Manager, Inspari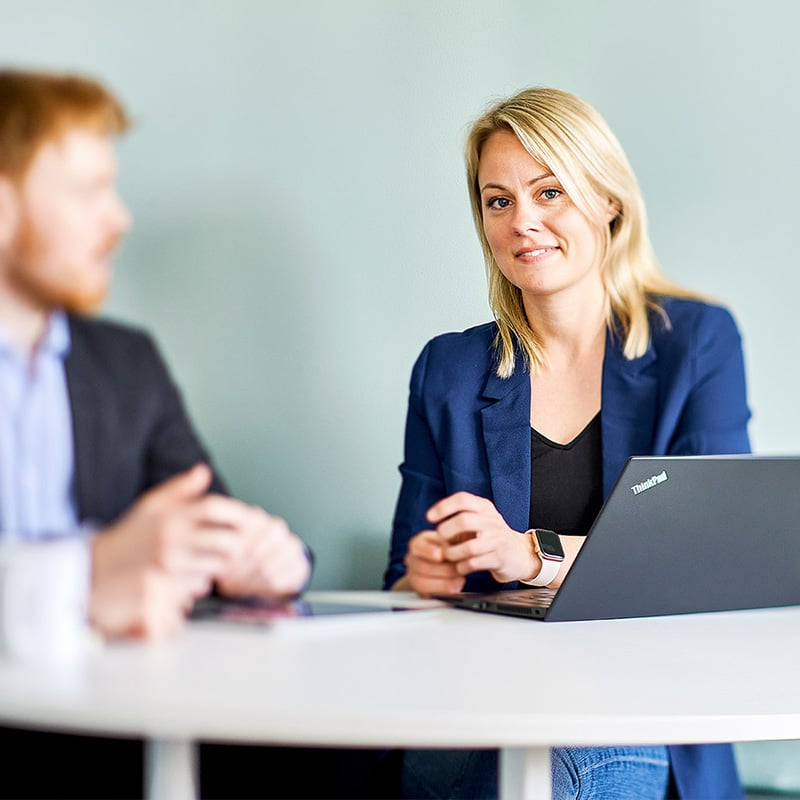 It takes heartwork

to be leading people
As part of the Heartwork-culture, you will notice that ambitions and expectations go hand in hand with passion and team spirit. We believe that our help-oriented culture with each of our strong competencies and personalities helps us win together.

As a workplace, we want to meet you as the whole human you are – with family, leisure, friends, and ambitions to perform. Therefore, you will meet a high degree of flexibility and trust where you, in respect of the customer, team, and task, can put in your hours whenever it fits you the best.
Our active social club is arranging a wide range of different events so that there are fun and games for everyone to join in on. Our management always makes a huge effort to make sure that every Inspari-event is worth your time if it keeps you away from home.

All of this is just words, which is why we will advise you to visit our Instagram to see photos from both everyday life and parties at Inspari. We promise that you have something good coming your way.
We lay the foundation

you achieve the success

Besides world-class colleagues we offer you:
Nice surroundings and terms of employment
Flexibility, which includes the possibility to work from home
Ongoing training and education
An attractive salary that matches your qualifications
An active social club that arranges a wide range of activities
An extraordinary workplace
Kribler det

allerede i dig?
When, hopefully, you open the dialogue with us – whether you sent a short message on LinkedIn, a video, write down 3 lines about your motivation, or whatever suits you, we would like for you to mention what makes us a great fit. Your words will be treated confidentially and read with genuine interest and curiosity.

If you have any questions, feel free to contact Jesper Fogh, CFO, on jfo@inspari.dk / +45 29 20 31 01.

Kan vi hjælpe dig?
Skriv til os her,
Hvis du har spørgsmål eller tænker, at tiden er inde til et uforpligtende kald eller møde, kan du kontakte os her. Vi ser frem til at høre fra dig og svarer hurtigst muligt.